Rotterdam

Rotterdam is a young, dynamic worldly city that keeps reinventing itself at speed. Our city is unconventional for the Netherlands, internationally renowned for our passion for innovation and unpolished charm. Whether it is our ever-changing skyline full of bold architecture, our port that is regarded as the smartest in the world or the 'can do' mentality of the Rotterdam people in all their diversity: Rotterdam is an entrepreneurial city with a distinct character, constantly evolving and always looking forward. A city of frontrunners with the courage and will to drive change. 
 What to do in Rotterdam?
The Euromast Tower is an observation station that was created in 1960 to provide panoramic views of the Rotterdam Cityscape. The towers stands at 606ft and with its antenna it is the tallest building in Rotterdam. The tower features a restaurant, a conference room for business meetings, a hotel suite and of course the observation deck. This is the perfect way to see the sprawling expanse of Rotterdam and its ports and the entrance fee is quite modest for both adults and children. If you are looking for a little adrenaline action you can even zip-line or abseil from the tower.
Erasmusbrug also known as "The Swan"
The Erasmusbrug connects the northern and southern halves of the city by bridging the Nieuwe Maas river. What's cool about the bridge is that it's both a cable-stayed bridge and drawbridge (bascule) in one. The bascule section allows safe passage for ships which are too large to pass under it. The Erasmusbrug is the biggest and heaviest of its kind in all of Western Europe. It also has the largest panel (of its kind) on earth. The bridge is 802 meters long and carries multiple vehicle lanes, tram tracks, bicycle lanes and sidewalks.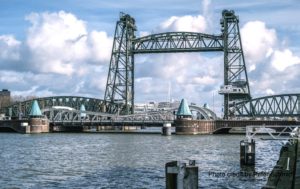 Few people know this, but the Hef is actually called Koningshavenbrug. It's a decommissioned vertical-lift bridge which used to be part of a railway line connecting the city of Breda to Rotterdam. The Hef has a length of 79 meters and carries 2 railway tracks. The Hef was designed by Dutch engineer Pieter Joosting and was officially opened on the 31st of October, 1927. It was the first of its kind in all of Western Europe. The bridge was severely damaged by the Nazi bombardment in 1940, However, due to its significance to the railway system, it was quickly rebuilt. The Hef hasn't been used since
1993 and is listed as a national monument.
The Maritime Museum is one of the largest of its type in the world with a huge collection of cartography, maritime memorabilia and art. The museum is located in central Rotterdam near the Markthal and the Cube houses. Some of the interesting exhibitions include a controversial paiting of the Battle of Trafalgar, a collection of figureheads from various ships, different navy uniforms and flags from sea battles. This really is a place full of interesting objects relating to the maritime world and the artefacts you can find here are world-class.
The cube house is as you would expect – A set of houses that are cuboid fashion. This bizarre and eccentric housing block was designed by Piet Blom and the cubes that it is formed from are tilted at a 45 degree angle. The cubes are like no other type of house you will see and they really are an interesting concept; it makes you wonder how the people living here cope with the strange angles of the walls and windows. From a far the structure looks like some old 2D computer game and one of the cubes is open to the public so you can see what the interior is like.
The Fenix Food Factory provides a unique experience where you can delve into the food world and take part in workshops, tastings and open markets. The factory promotes fresh local produce and you can find some delightful treats here and even freshly roasted coffee and home brewed beer. Aside from the beer and coffee you can also indulge in tasty cheeses, a selection of butchers meats and bread and cakes from Jordy's Bakery. Food lovers will find this place to be delightful.
Dynamic world city
The city is known internationally as the 'gateway to Europe'. Our port, the busiest in Europe and the smartest in the world, is the engine powering Europe's most innovative maritime and offshore cluster. Our city is also home to world-leading clusters in other economic sectors such as life sciences and health, cleantech, logistics and agrifood. Thanks to our international airports, port and advanced digital infrastructure, Rotterdam has the best connectivity in Europe. That is why Rotterdam is an international business and transport hub where global companies choose to locate their head offices. Here connections are made quickly and easily, resulting in unorthodox combinations and creative collaborations between businesses across different industries. With our internationally acclaimed knowledge institutions, a thriving international business community, high-quality culture and architecture, a multitude of leisure activities and a rich diversity of people, Rotterdam has it all.
City of many cultures
Rotterdam's strategic location means that our city is literally connected to the rest of the world. With more than 170 nationalities living together, we are also home to the world. Some were born here, others came here to build a future. This great diversity of people, dreams and ambitions makes Rotterdam rich in subcultures. Our openness to the world has shaped our culture: from our art and culture scene, our food culture, our nightlife, our streets and neighbourhoods to our entrepreneurial spirit and business community. This diversity gives our city a unique urban vibe. This makes Rotterdam an international city with an open culture where there is room for newcomers to come and fulfil their dreams. A city that is constantly evolving and always looks forward.
The Weather in Rotterdam