Rotterdam
Rotterdam is a young, dynamic world city that keeps reinventing itself at speed. Our city is unconventional for the Netherlands, internationally renowned for our passion for innovation and unpolished charm. Whether it is our ever-changing skyline full of bold architecture, our port that is regarded as the smartest in the world or the 'can do' mentality of the Rotterdam people in all their diversity: Rotterdam is an entrepreneurial city with a distinct character, constantly evolving and always looking forward. A city of frontrunners with the courage and will to drive change.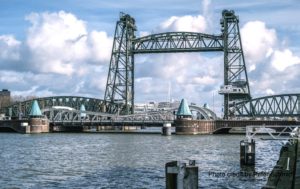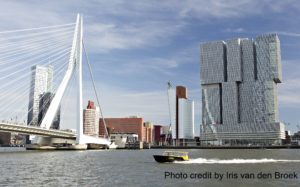 Rotterdam: Dynamic world city
Our city is known internationally as the 'gateway to Europe'. Our port, the busiest in Europe and the smartest in the world, is the engine powering Europe's most innovative maritime and offshore cluster. Our city is also home to world-leading clusters in other economic sectors such as life sciences and health, cleantech, logistics and agrifood. Thanks to our international airports, port and advanced digital infrastructure, Rotterdam has the best connectivity in Europe. That is why Rotterdam is an international business and transport hub where global companies choose to locate their head offices. Here connections are made quickly and easily, resulting in unorthodox combinations and creative collaborations between businesses across different industries. With our internationally acclaimed knowledge institutions, a thriving international business community, high-quality culture and architecture, a multitude of leisure activities and a rich diversity of people, Rotterdam has it all.
Rotterdam: City of innovation
Rotterdam is a city of frontrunners, pioneers and people with the courage and will to drive change. Entrepreneurial spirit, innovation and experimentation are all integral elements of our city's DNA. Traditionally, Rotterdam has drawn immigrants from near and far. They came here to fulfil their dreams and build a brighter future. That pioneering spirit has spurred Rotterdam's growth and transformed it into the world port city it is today. A city still characterised by its bold drive to innovate. From our impressive architecture and creative sector to our future-obsessed port and our resilience strategy, Rotterdam often leads the world in new ideas and innovations. Take the development of the Maasvlakte 2, for example, which extends the port into the sea, and the architectural masterpieces on the Kop van Zuid. Or look at our universities and knowledge institutions with their international reputations for outstanding research and education. And take our climate adaptation strategy that is setting such an example across the world that the UN Global Center on Adaptation chose to locate in Rotterdam.
Rotterdam: Bold city
Rotterdam is a city with a distinct character, energetic and always in motion. Here we embrace experiments; we believe nearly everything is possible. Ambitious and ground-breaking projects in architecture, urban development and design are combined with small-scale and grassroots initiatives. Rotterdam offers unparalleled room for innovation and entrepreneurship. We welcome creative spirits who believe in the future of the city and want to be part of our Make it Happen culture. The Rotterdam mentality of thinking in solutions ensures that innovations are actually put into practice and, as such, become inspiring examples for the rest of the world. A city is never finished: Rotterdam thrives by reinventing itself. Old port areas are successfully transformed into innovative live/work areas. Vacancy acts as a catalyst for urban renewal. The city grows and works creatively with the available space: up, down or on the water. Successful implementation of our densification strategies has made Rotterdam's inner city more attractive, green and lively.
Rotterdam: City of many cultures
Rotterdam's strategic location means that our city is literally connected to the rest of the world. With more than 170 nationalities living here together, we are also home to the world. Some were born here, others came here to build a future. This great diversity of people, dreams and ambitions makes Rotterdam rich in subcultures. Our openness to the world has shaped our culture: from our art and culture scene, our food culture, our nightlife, our streets and neighbourhoods to our entrepreneurial spirit and business community. This diversity gives our city a unique urban vibe. This makes Rotterdam an international city with an open culture where there is room for newcomers to come and fulfil their dreams. A city that is constantly evolving and always looks forward